Tuesday, May 7, 2019
For Immediate Release
Shane Rhinewald, 585-410-6365, srhinewald@museumofplay.orgcreate new email
Noelle McElrath-Hart, 585-410-6325, nmcelrathcreate new email@museumofplay.orgcreate new email
ROCHESTER, New York—Travel back to the 1800s and discover the games that brought families together in parlors across America and Europe at The Strong National Museum of Play. View a display of select pieces from the Liman Collection, donated by artist and collector Ellen Liman and her late husband, Arthur, which offers a rare glimpse into the games that delighted society's adults and children more than 150 years ago.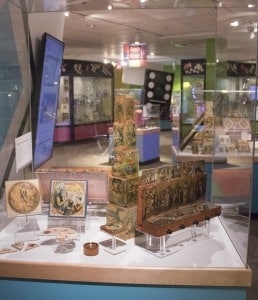 "What a great honor to have our collection of international tabletop games at The Strong, and to share our long-time passionate pursuit with museum visitors, young and old," says Ellen Liman. "While Arthur valued these games as historical artifacts often requiring knowledge, skill, and luck to play, I sought out these rare treasures for their unique design."
The display includes games such as The Little Folks Army Infantry (1882), Sir Hinkle Funny-Duster (1903), and Tivoli (1847), an early precursor to modern-day pinball games.
"This display also includes a number of rare games, such as the intricately designed piece Mother Hubbard's Party (1887). The bowling-style game features imaginative artwork of classic nursery rhyme characters such as Mother Goose, Jack and Jill, and Old King Cole," says museum Curator Nicolas Ricketts.
The display also features a video component that showcases puzzles being assembled and some of the games in action.
The display is included with general museum admission fees. Programs underwritten by Delta Air Lines, the official airline of The Strong.
About The Strong
The Strong is a highly interactive, collections-based museum devoted to the history and exploration of play. It is one of the largest history museums in the United States and one of the leading museums serving families. The Strong houses the world's largest and most comprehensive collection of historical materials related to play and is home to the International Center for the History of Electronic Games, the National Toy Hall of Fame, the World Video Game Hall of Fame, the Brian Sutton-Smith Library and Archives of Play, the Woodbury School, and the American Journal of Play. Together, these enable a multifaceted array of research, exhibition, and other interpretive and educational activities that serve a diverse audience of adults, families, children, students, teachers, scholars, collectors, and others around the globe.
================================================================================
Museum Hours: Monday–Thursday, 10 a.m. to 5 p.m.; Friday and Saturday, 10 a.m. to 8 p.m.; Sunday, noon to 5 p.m.
General Admission Fees (does not include admission to Dancing Wings Butterfly Garden®): age 2 and older $16, under age 2 free, members free. Fees subject to change.
Admission to Dancing Wings Butterfly Garden: General Admission fee plus $4 for members, $5 for nonmembers, under age 2 free. Fees subject to change.
Parking: Free parking is available at the museum for all guests on a first-come, first-served basis during regular museum hours. Please note that, on high visitation days, the museum lot may reach capacity early in the day. If space is not available on site at the time of your visit, additional parking is available at neighboring municipal garages for a fee. The Strong is not responsible for fees incurred at off-site locations.