In 2018, The Strong received a donation of thousands of artifacts, including first-edition strategy and simulation games, wargames, and role-playing games from Darwin Bromley, co-founder of Mayfair Games. The artifacts constituted the single largest gift the to the museum's collection and will help scholars understand the importance and influence of a transitional era in games, charting their effect on the development of contemporary examples and on video games.
opens in a new window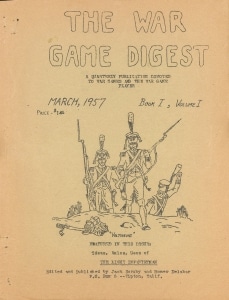 Darwin Bromley began playing and collecting games with his brother, Peter, in 1962. The brothers focused on collecting strategy and simulation games, wargames, fantasy, and role-playing games and associated materials. The more than 10,000 magazine issues in the collection include rare wargaming titles unique to the Brian Sutton-Smith Library and Archives of Play, such as The Battlegamer, The Game Oracle, Kriegsrau, Perfidious Albion, and The Yaquinto Dispatch. In addition, the more than 1,500 books, trade catalogs, press kits, comic books, conference materials, and other publications Bromley donated to the library help illuminate a pivotal time in game development before the computer age.
The world of online wargaming that flourishes today can be traced back a century and a half to its Prussian origins. The Bromley collection documents wargaming in the United States as it moved from play-by-mail and self-published zines, to board games, role-playing games, computers games, and then online.
In 1780, Johann Hellwig developed what is considered the first wargame, based on chess. Its success brought on nearly a century of passionate wargame play throughout the region. Prussia's history of wargaming was given partial credit for its defeat of France in the Franco-Prussian War in 1870 and the rest of the world began to take notice. In 1873, the world's first recreational wargaming club was formed at Oxford University in England. By 1894, the U.S. Naval War College was regularly using wargaming in its curriculum. Science fiction pioneer H. G. Wells published the first rulebook for miniature wargaming, Little Wars, in 1913. Wargaming remained a subset interest within the toy soldier hobby world throughout the two world wars. In the late 1950s, miniature hobbyist Jack Scruby organized the first miniature wargaming convention in the United States. Scruby and Homer Delabar edited and published the first wargaming magazine, The War Game Digest, in 1957.
opens in a new window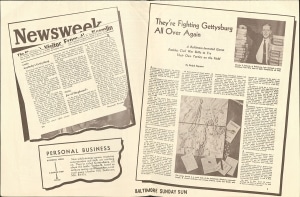 The board wargaming movement began to see commercial success in the 1950s as well. Game designer Charles S. Roberts produced Tactics in 1954. Roberts went on to form the Avalon Hill Game Company and publish Gettysburg in 1958. These challenging strategy games made board games the domain of adults as well as children, and soon the popularity of board wargames eclipsed that of miniature wargaming.
opens in a new window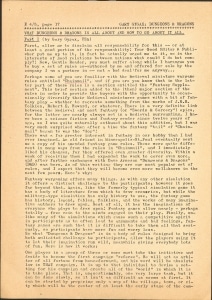 In the 1970s, a new type of wargame emerged: the fantasy wargame. Gary Gygax, inspired in part by a ruleset for a Medieval miniature wargame published in 1956, designed Chainmail in 1971 with Jeff Perren. The rules for Chainmail contain a section at the end entitled the "Fantasy Supplement." Gygax writes that he and Dave Arneson developed the rules for Dungeons & Dragons from this section. In the mid-January 1975 issue of Europa, a "European zine, aimed at the military hobby field," Gygax wrote an article about D&D entitled "What Dungeons & Dragons is All About and How to Go About it All, Part I."
As the popularity of fantasy wargames in America grew, so did the use of computers for simulation in wargaming. Video game designer Joel Billings was a wargame enthusiast from an early age and realized that contemporary strategy game companies were not dedicating resources to develop computer versions of their analog games. After discussing his ideas with other game programmers, Billings began opens in a new windowStrategic Simulations, Inc. (SSI) in 1979 with a modest investment. The California-based company successfully published its first wargame, Computer Bismarck, in 1980.
opens in a new window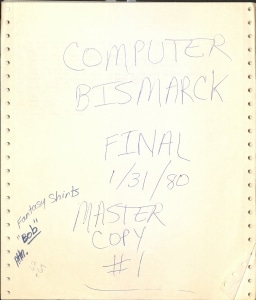 Victor Kislyi founded the game company Wargaming in Belarus in 1998. In 2010, Wargaming released its first online title World of Tanks, a massively multiplayer online (MMO) game showcasing mid-20th-century combat vehicles. World of Tanks benefited from conventional wargamers' enthusiasm for customizing miniatures and model vehicles: players personalized their own vehicles with camouflage schemes or enhanced weaponry purchased with in-game credits. The Strong's opens in a new windowWorld of War Games: A History of Wargaming online exhibit draws on the museum's collection of thousands of war games to present the history of Wargaming Group Limited and its games.
Darwin Bromley passed away in 2019. He is remembered as a visionary in the gaming industry. Through his generous donation to The Strong, the history of the games—and the sense of comradery and community they inspire—he loved will be preserved for generations to come.